What is a Kenyan occasion without a special cup of chai? Make it chai masala, and you will create a beverage that's the epitome of warmth, comfort and reception.
The sweet aroma of cardamom, ginger, and subtle notes of chai masala wafting through my kitchen reminds me of memories of trips made to relatives or friends' homes in Kenya. The same welcoming aroma of chai inviting me in.
Chai is quintessential to Kenyans; an essential beverage that unites Kenyans of all tribes. From the breakfast beverage of choice in schools to quenching mourners in a funeral.
A gathering without steaming cups of chai is incomplete.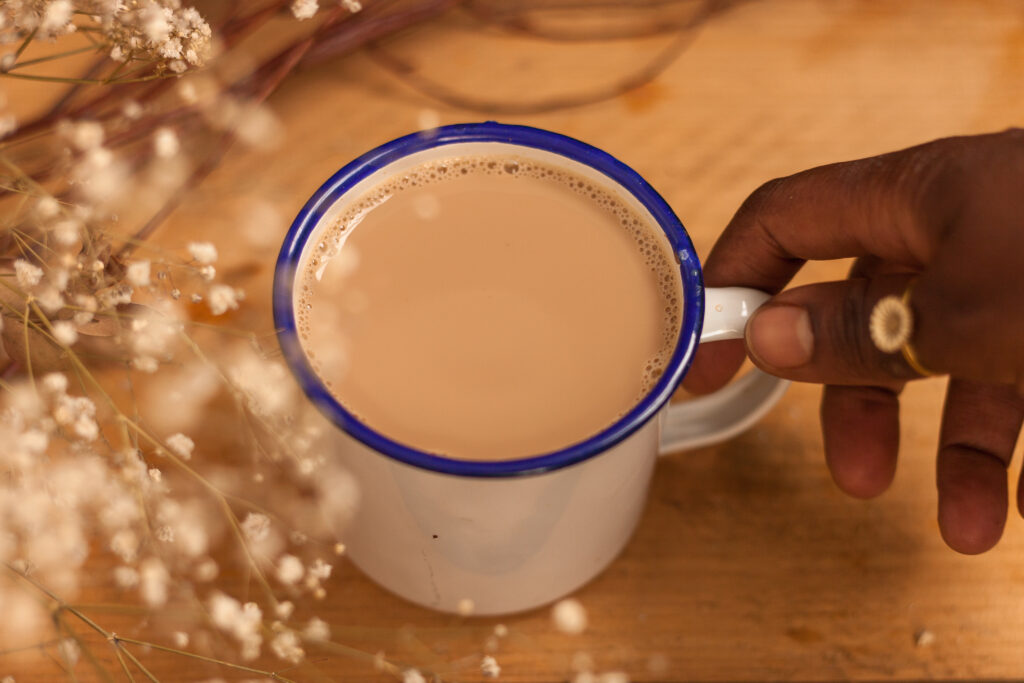 Chai epitomizes togetherness
Kenyans love their chai. Our mothers having real and imaginary chai headaches.
In fact, dowry negotiations can stall or succeed, depending on the copious amount of chai served.
Indeed there is nothing like cultural appropriation of chai in Kenya. We are as proud of our chai heritage like Indians, Pakistani or Chinese are!
And like my mother's endless supply of brewed chai, chai is something that brings people together.
All you need is a thermos to keep it piping hot, and you won't have to think of making refills.
It doesn't take a lot to brew chai, as most Kenyans can do it on a stovetop or an open fire.
Most chai recipes consist of black tea leaves, sugar, water and milk.
Anyway, I will leave you with my favourite chai recipe. I like to make mine spiced up as people do in the Coastal region of Kenya or Zanzibar.
A hot cup of chai masala accompanied by mahamri makes this Kenyan abroad happy.
Enjoy the Kenya chai masala recipe below!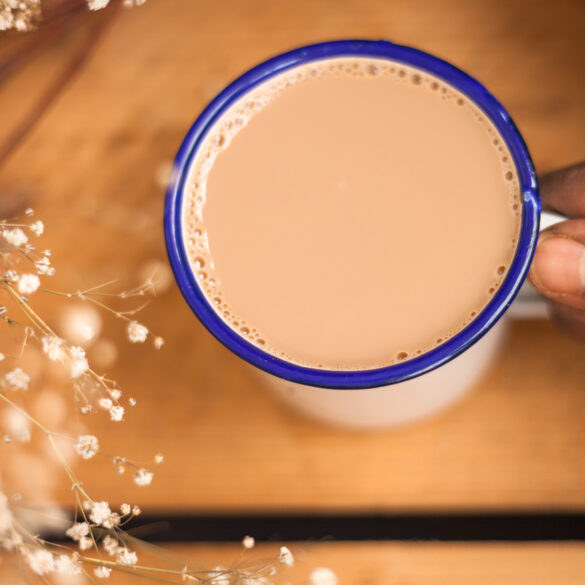 Ingredients
1 star anise

I stick cinnamon 

5 Cloves

1/2 Nutmeg (optional)

1/4 black pepper

1 tablespoon fresh root grated ginger

2 tablespoon black tea leaves 

6 green cardamom pods

5 cups of water

3 cups full-fat milk (or less)

2 tbsp sugar, or to taste
Instructions
Peel and grate the ginger, then crush the ginger, cardamom pods and black pepper.

Add water into a pot and place the spices inside, cover and bring to a boil for 10 minutes.

Add water tea leaves, boil for 2 minutes. Then add milk.

I usually reduce the heat and leave the metallic spoon side (if I am leaving the room, this prevents the milk from spilling over).

Add sugar, stir and simmer for another 15 minutes.

Strain into a mug using a sieve and serve with mahamri or chapati.
Notes
 Full-fat milk gives chai a creamy taste.
You can substitute the whole spices with powdered chai masala.
Did You Make This Recipe?