Today we are cooking sukuma wiki with beef. Please note, you can use this recipe without the meat if you are looking for a meat-free option.
Before we proceed, allow me to share my experience of finding sukuma wiki abroad.
See, the first time I saw a sukumawiki farm was next to my in-law's house in the middle of rural Denmark.
Never had I seen such large quantities of sukumawiki, these paled in comparison to my mother's kitchen garden back in Kenya.
I had been living in Denmark for about 4 months then and was experiencing some serious homesickness, so naturally, the sight of sukumawiki, which I hadn't eaten in months, sent my mind racing.
I turned to my husband and asked if I could step out of the car to forage.
"You can't forage from this farm. It's private property," he responded, amused.
"What? All these acres of land and you are saying I can't pick some sukuma wiki?" I replied, shooting him a look of defiance.
"I'm sorry, but you can't forage here." He reasoned.
I stood there staring at the 5 acres of endless sukumawiki, in disbelief and envy. Hypnotised.
Kenya's national meal
Sukuma wiki is Swahili for push the week. As it is sukuma wiki gets many Kenyans through the week because it is readily available, affordable and easy to cook.
I defiantly choose to use the term sukuma wiki when referring to kale and collard greens.
Besides, you can choose to cook sukuma wiki with onions and tomatoes, which the go-to option for many Kenyans who are on a tight budget.
However, you can also switch up the flavour by adding beef or chicken.
By and large, this is a meal that requires minimal ingredients for a maximum flavour. Remember not to overcook the sukumawiki, doing so will kill the nutrients.
Overall, this is my 7th year in Denmark and I have since discovered that local supermarket stock grønkål, aka kale.
Of course, I still stop by roadsides to admire kale farms. The kale in these farms is meant for cows, and my husband still reminds me not to be tempted – ah the voice of reason!
Moreover, I've discovered that kale also makes for a delicious salad. Who knew!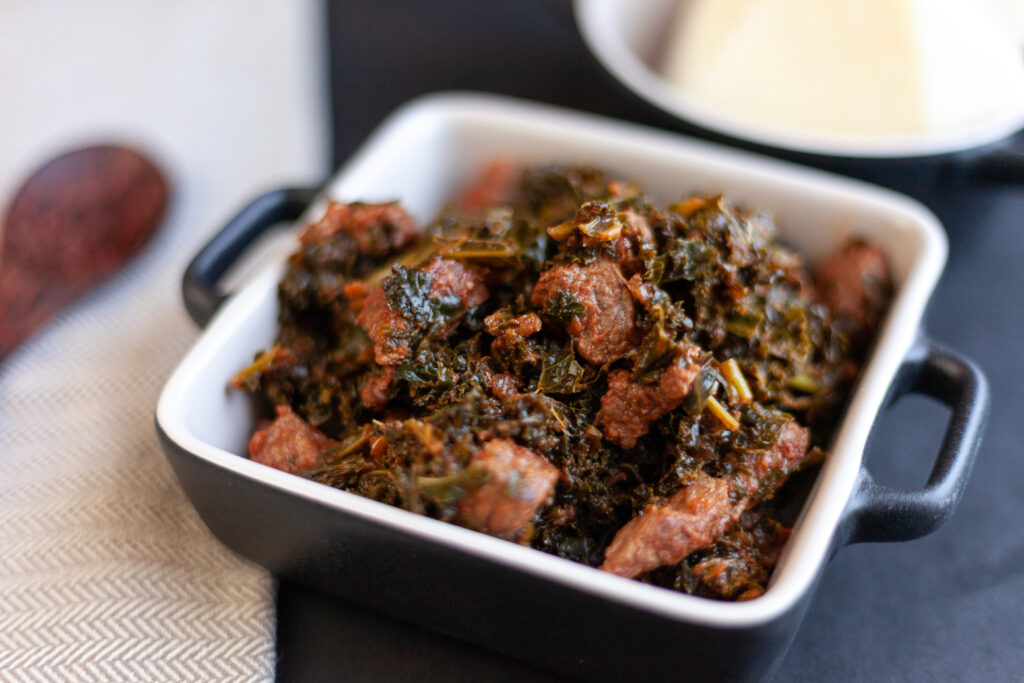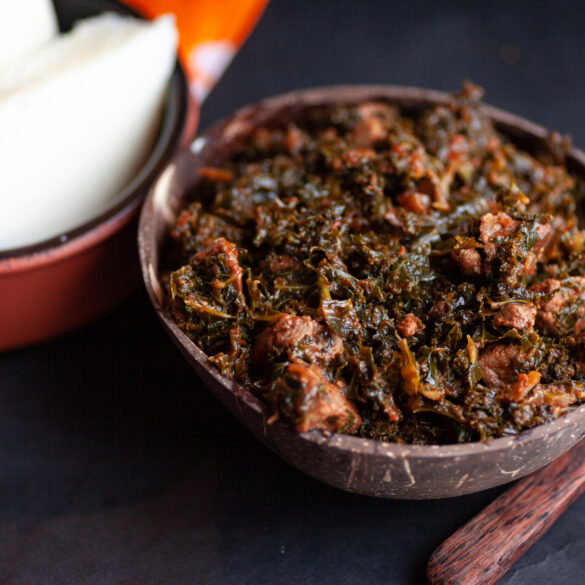 Ingredients
350 grams cleaned and chopped kale
250 grams lean beef (optional)
2 medium tomatoes
1 large onion
1 tbsp curry powder
1 tbsp ginger and garlic paste
1 tbsp coriander stems (optional)
1/2 tsp salt (more to taste)
4 tbsp oil
1 tsp tomato paste (optional)
1 tsp cayenne pepper (optional)
1 tbsp lemon juice
Instructions
- heat oil in a preheated pot
- Add the sliced onions and brown for 5 minutes, next add the garlic and ginger, continue frying until the raw smell of garlic is gone.
- Next add the tomatoes and tomato paste, Theb the coriander stems (these give flavour). Cook for 3 minutes until you notice the oil beginning to separate from the tomato mix.
- Now add in the meat, stir in the curry powder and cook for 10- 15 minutes, until all the meat is browned. Cook for longer if meat is still tough, you can also add some water to the meat if it is burning, just make sure their is no soup left when adding the kale.
- You can taste the meat, if it tastes almost done, you'll know it is time to add in the kale.
- Add the cleaned and chopped kale. Don't stir, let it sit above the meat for two minutes.
- Now stir the kale and make sure it is evenly mixed with the meat. Continue cooking for 7-10 minutes, don't overcook the sukumawiki. I like mine slightly cooked, and crunchy. Overcooking will kill the nutrients.
- Stir in the pepper and lemon juice.
- Serve hot with ugali, chapati or rice
Did You Make This Recipe?