I made this version of Kenyan pilau using goat meat during an Instagram takeover at the Black Foodie page. I aimed to showcase Kenyan cuisine and inspire others to try this simple, but flavorful recipe.
As a home cook living abroad, I always want to showcase the richness and abundance of Kenyan cuisine through fuss-free recipes. Little is known of the versatility of Kenyan cuisine, so in my own way, I am helping change the narrative. But most importantly, food is my language of love and a way in which I share my culture with my children.
Kenyan pilau comes in many versions – chicken, goat, beef or vegetables, for this version, I paired the pilau with goat meat. Rather than frying the meat first, I boil it until the meat is tender, then reserve the stock for boiling the rice.
Pilau uses a medley of fragrant spices, like whole cardamom, cloves, and cumin. This recipe's various spices are a great testament to the different cultures fused into this dish. It's a nice mix of Middle Eastern, Indian, and African traditions!
This meal is a must for any special occasion or event; for any large and important life celebration from marriages to funerals.
Enjoy!
Tips for making a fail-free Kenyan pilau.
Do you struggle with getting your pilau recipe right?
Well, here are a few tips you might consider going forward:
??Use basmati rice, two-year aged where possible. Basmati or long-grained rice gives the best Pilau
??Oil – whether using ghee or vegetable oil, be generous with the quantity, at least 3 tablespoons for a cup of rice. The rice grains need the oil to help them separate.
??Soak the rice for at least 30 minutes, then rice it off until the water runs clear. This gets rids of all the extra starch that makes the rice lumpy.
??Use a 1:2 ratio, for one cup of rice, use two cups of water. This ratio works more of the time. Some types of rice grains call for a 1:4 ratio, but I use the 1:2.
??If using meat and/or potatoes, make sure they are halfway cooked before you add in the rice. The latter will cook faster, and you made end up with hard potatoes if you didn't allow them to cook further before adding in the rice.
??I prefer using cold or lukewarm water, then I add in the rice, cook it on a high boil for 7 minutes, cover with a foil or kitchen towel, reduce the heat to the minimum and cook for another 15 minutes, then remove it from the stove and let it sit, covered for another 15minutes. Sealing in the moisture helps the rice elongate and become fluffy.
??Browning the onions gives pilau the natural brown colour. You don't need to add soya to achieve this look!
??Last but not least, use whole spices where possible, don't forget the salt!!
.
Any other tips you can think of?
Also, check out my tasty Fish recipe here.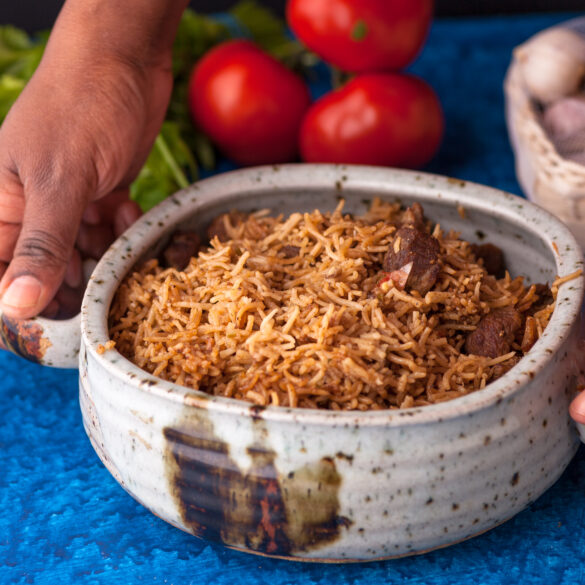 Ingredients
• 500 grams goat meat, cut into bite size chunks (preboiled)
• 2 large onions, finely chopped.
• 2 cups of basmati rice
• 4 cups of water (or stock from the boiled meat)
• 3 tbsp. of ghee (or neutral tasting oil, except olive oil)
• 2 tbsp. ginger and garlic paste.
• 2 tbsp. coriander stems (save the leaves for garnishing)
For the Pilau masala
• 1 black cardamon (optional)
• 2 tbsp. cumin seeds
• 1 tsp. black peppercorns
• 7 green cardamom pods
• 6 cloves
• 1 savoury cinnamon stick
Spices for boiling the goat meat.
• 5 cloves of garlic
• 2 bay leaves
• 5 cloves
• 1 tbsp. of salt
More salt to taste.
Instructions
• Rinse the goat meat off any excess blood. Pour 700ml of water into a large pot, the add the rinsed meat together with 5 cloves of garlic, 2 bay leaves, 5 cloves and 1 tablespoon of salt, cover with a tight-fitting lid and let it simmer for one hour.
• While the meat is boiling, wash, rinse, and soak two cups of rice in cold water for about 30 minutes.
• Once the goat meat is tender, remove and set it aside. Save the stock for later.
• Next heat a pan and roast the whole spices for two minutes, then grind them into a powder. Alternatively, you can cook the spices whole.
• Heat 3 tablespoons of ghee into a large pot on medium heat, then add the onions and fry them for 10 minutes, or until golden brown. Do not proceed before the onions are browned, as this set is crucial to the flavour and colour of the pilau.
• Add in the garlic and ginger paste, fry for two minutes, while stirring to prevent the mix from burning. Once the raw smell of garlic is gone, add the coriander stems and the ground spices, including the whole cinnamon stick.
• Onto this, add the meat along with the ground or whole pilau masala spices, add 1 teaspoon of salt, then mix well to combine and fry for 5 minutes until evenly browned.
• Drain and rinse the rice until the water is clear. Then add it into the goat mix, stirring gently until all the rice are coated with the meat and spices. Add 4 cups of the goat meat stock, then cover with a tight-fitting lid and boil on a high for 5 minutes.
• After this, seal the pot with a foil or kitchen cloth (or both) and once again cover with a tight-fitting lid, then turn the heat to the lowest setting and cook for 15 minutes.
• Remove the pot of the heat, do not lit the lid, instead set the pot aside for another 15 minutes for the pilau to continue cooking with the sealed in steam.
• Once the goat meat pilau is ready, uncover the pot and use a fork to fluff the rice.
• Serve while hot with kachumbari salad.
Did You Make This Recipe?