I am 13 years old when my mother brings home some tilapia fish fillet and askes me to prepare some fish stew for supper. Before this, I have never tasted tilapia, let alone cook it into a stew.
My mother asks me to make the tilapia fish stew the same way I did with beef stew; Sautée onions, put in some tomatoes, Royco, then add in the meat, you know, a typical Kenyan way of cooking.
Anyway, so here I am, no idea what I'm doing with this tilapia, meanwhile, my mother and my brother are catching up on conversations, eager for supper.
I think nothing could be complicated about cooking tilapia fish stew, right?
Well, since I have never cooked tilapia before, I don't know how long fish stew takes to cook.
Instead of asking my mother, I keep tasting to check whether it is salted or cooked enough.
Alas, before I know it, I look at the pan, and lo and behold, all the fish stew is almost gone save for about enough to feed a toddler.
I can almost hear you thinking, how is this 13-year-old cooking supper?
I know, in retrospect, I'm always in awe of how young I was no begun to cook. I started cooking when I was 7 years old.
Now I have almost dismantled the pot of fish stew, then it hits me, I have to face my mother.
By now my mother is getting impatient wondering whether I was dressing the food up. The sarcasm in her voice doesn't do much to pacify my panic.
The problem is, my mother is a single parent, money is tight, tilapia is a rare delicacy. I want the ground to open up and swallow me.
A fishy affair
As if that's not enough, I am feeling selfish for tasting the fish into oblivion.
How do I explain that my 13 old self could not get enough of the delicious fish stew?
At this point, I am bracing myself for the worst. I expecting my mother to flip out.
Instead, she stares at me in disbelief, unsure whether to laugh or cry or both.
Now, before you judge me, here is a backstory.
Fish and Kikuyu aren't two words that you hear often in the same sentence.
In fact, I don't refer my hometown of Nyeri having a single restaurant then that served fish stew as a regular meal. It is only in recent years that farmers in Nyeri are embracing fish as a superfood.
Also, I was a teenager, on holiday break from boarding school, experiencing growth spurts and constant hunger. I could have eaten a table if it was the one thing standing between me and hunger.
And the best part of this story is that you would think my embarrassment ends here.
Years later, during my first workplace in Nairobi, I happen to tell this story to colleagues at lunch break. We are eating fish stew when nostalgia hits.
I should have known better than to share personal stories at the workplace because my fish affair confession became a running joke.
Whenever it was my turn to pick lunch for colleagues, someone would always shout, "please don't taste all the food, like you did that fish stew, we need some food for ourselves too."
Long story short, the tilapia fish stew misadventures of my childhood have become one of the reasons why I love eating fish. This delicious recipe comes from a place of love and nostalgia.
Enjoy!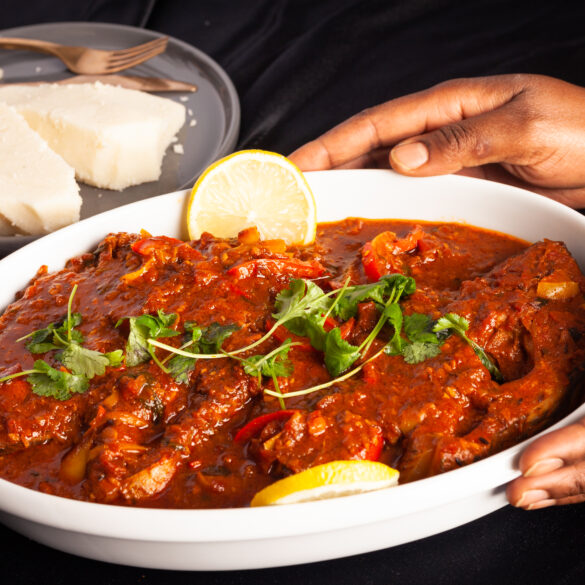 Ingredients
2 medium onions, grated into fine pieces

50 ml of vegetable oil

2 garlic cloves, grated

1tsp ginger, grated

1 tsp tomato paste

2 large tomatoes, blended

1 tsp cumin seeds

1 tsp smoked paprika (optional)

1.5 tsp curry powder

500 ml vegetable stock *see note

1 kg tilapia fish, cut into steaks (cleaned and patted dry with a paper towel)

1 mixed bell pepper, sliced (yellow and red, or green)

15 ml coconut cream (optional)

1 tablespoon fresh coriander stems, chopped. (or 1 tsp coriander seeds)

20 grams, fresh coriander leaves, for garnishing

Salt to taste
Instructions
Heat the vegetable oil in a large pan and fry the cumin for a minute until fragrant, then add in the onions. Cook for 5 minutes until golden brown.

Add in the garlic and ginger, cook for two minutes, while stirring, until the raw smell of garlic is gone.

Next, add the tomatoes, and tomato paste, cook for two minutes, then add the coriander stems or coriander seeds.

Add the paprika and mild curry powder, then add 500ml vegetable broth to the spicy tomato mix.

Time to add in the clean fish. Cook for 10 minutes, and then add the bell peppers.

Drizzle the coconut cream onto the simmer fish stew

Cover and cook for 15 minutes in medium heat.

Garnish with coriander leaves

Your East African Tilapia Fish Stew is ready to serve, that is, if you didn't taste it all while cooking.

Serve with hot ugali or rice.
Notes
No vegetable stock or broth? No problem, simply crash two bouillon cube into 2 cups of water.
Did You Make This Recipe?