It is a lazy cold Sunday Autumn morning. The boys have invaded my warm bed. The little ones are extra cuddly because their Daddy is away for a work weekend, so it is us three bonding and spending most of our hygge time indoors.
The little one, Faraji, is first to wake up, as usual, he cries 'Mama, mama.' That is his cue for me to pick him up from his crib.
I bring him to my bed for a cuddle, we both drift back to sleep. I feel tiny warm hands caressing my face. Big brother, Fadhili, has joined us in bed.
'Mor, mor, hvornår skal vi lave waffles.' (When are we going to make Waffles)
Unlike Faraji, Fadhili calls me Mor. Danish for Mama.
I rub my sleepy eyes. Ah, I promised my toddler four days ago that we would make waffles on Sunday. I had silently hoped that he would forget so that I could sleep in a little longer but toddlers do remember, and this one keeps me accountable.
Children expect parents to keep promises
Fadhili trusts me to keep my waffle promise. Like many children his age, they look up to their parents to model positive behaviours like trust and honesty. It is not always easy to keep one's word. Children need to learn this too but its important that as a parent you explain to a child why you can't uphold your word.
I read an article in a Danish magazine 'Samvirke' about the need to talk to children as humans. The other explanation was that children are smart and capable of understanding so more than we give credit for, of course, this also means tailoring each conversation and negotiation with the child's age in mind.
Children learn about trust, deceit and manipulation from their parents and primary caregivers. Usually, up until the age of five, their minds are like sponges, absorbing what they see and hear. As a mother, I have to model healthy behaviour to my sons. I am not a perfect parent, but I consciously try not to damage their trust. I want always to match my words with actions.
The eyes of a child dazzle at the sound of a promise yet disappointment breaks their little hearts leading to confusion. Whenever possible, I prefer not to commit to my children if I don't intend to hold it up.
I would like to live my life not abusing promises as a way of bribing or manipulation. Better yet, I would like to always explain truthfully and carefully the reason(s) for breaking a promise even where or when as a parent, a lie comes more naturally. Sometimes this is easier said than done.
Waffles and therapy
Going back to my waffle promise, I slowly get myself to wake up. Dragging my lazy self to the kitchen to begin turning my commitment to reality.
By now the boys were running around like kittens, playing and laughing. They first have their usual breakfast of oats for Fadhili and Uji (Kenyan porridge) for Faraji.
I dig up my favourite recipe for dairy-free waffles and get down to work. I choose this milk-free recipe from Taste Lovely, website because Fadhili is severely allergic to milk, so everything we bake, cook or fry has to be milk-free.
Making the waffles takes about 40 minutes and as the boys sit down to munch on them, I feel a heartwarming sense of satisfaction. I have kept my promise, and my sons are happy.
Thinking about the emotional welfare of my sons isn't something that I always do, although when I consciously consider that they need my positive influence, I find myself getting better at this job of being a mother. A role that doesn't come with a manual.
I don't want them to spend their adulthood in therapy trying to get over childhood emotional scars. 🙂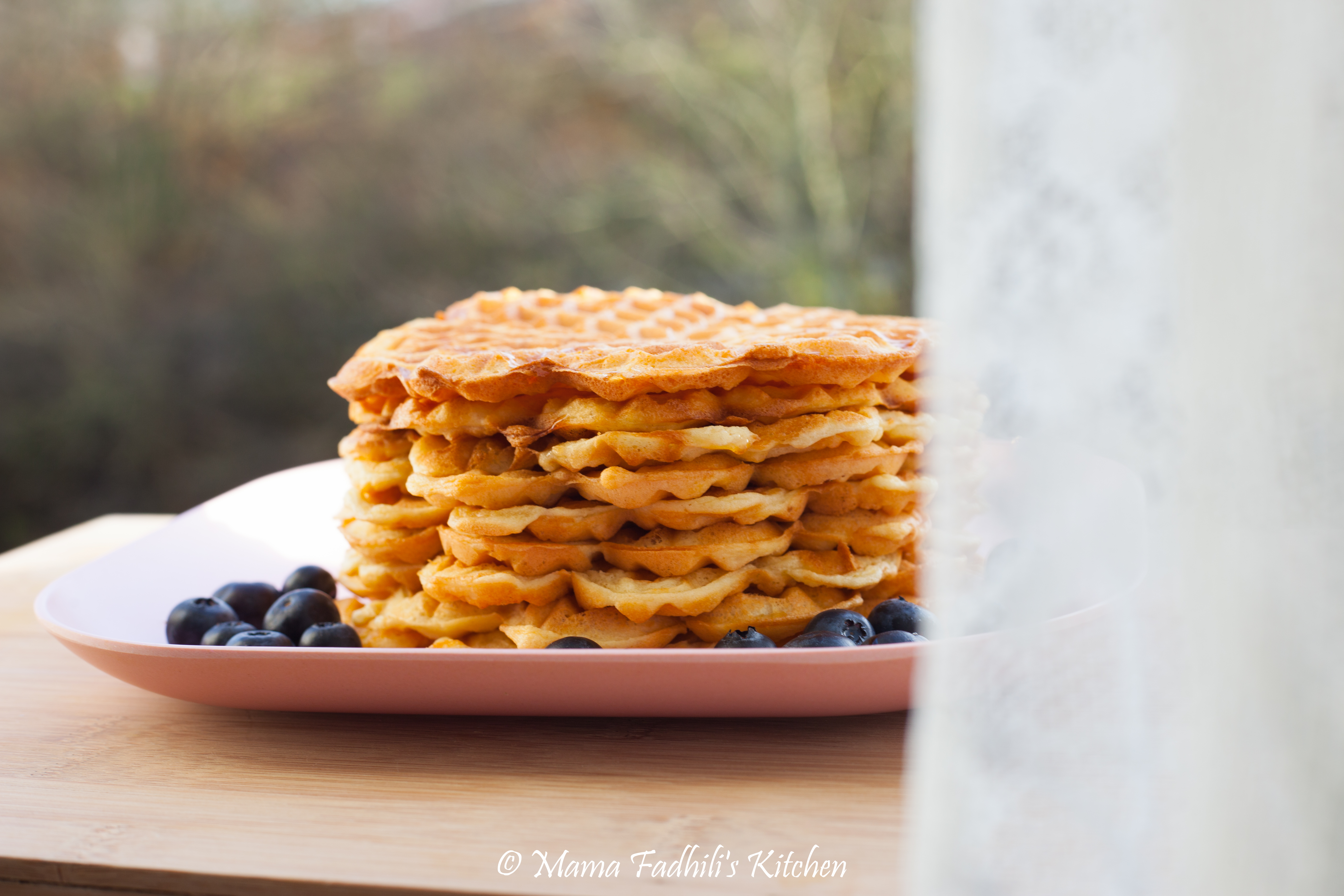 Ingredients
2 cups all-purpose flour
2 teaspoons baking powder
½ teaspoon salt
4 large eggs, whites and yolks separated
2 tablespoons granulated sugar
2 cups water
¼ cup coconut oil, melted and cooled to room temperature
½ teaspoon vanilla
more melted coconut oil for the waffle iron
Instructions
Preheat your waffle iron according to manufacturers directions. Preheat oven to 200 degrees. Set a wire rack on a rimmed baking sheet.
In a medium-size mixing bowl, combine the flour, baking powder and salt. Whisk to combine. Set aside.
In a stand mixer with a whisk attachment (or in a medium-size mixing bowl with a hand blender), beat the 4 egg whites over medium speed for 3-5 minutes until soft peaks form. Then, turn the speed to high for 1 minute until stiff peaks form. Set aside.
While the egg whites are beating, combine the wet ingredients. In a different medium size mixing bowl, add the 4 egg yolks and sugar. Whisk by hand for 30 seconds until combined. Add the water milk, coconut oil and vanilla. Whisk to combine.
Add the wet ingredients to the dry ingredients. Whisk to combine. A few lumps are ok.
Lastly, add the beaten egg whites to the waffle batter. Very, VERY gently fold the egg whites into the batter until just combined. You want to keep the egg whites as fluffy as possible. This will keep the batter light, give you lots of bubbles in the batter, which will make the waffles light and crispy.
Use a heatproof silicon brush to brush melted coconut oil onto your waffle iron. Add enough batter to cover the griddle, and cook according to manufacturers instructions to desired crispiness.
When the waffles are done cooking, transfer them to the rimmed baking sheet, and keep warm in the oven.
Serve warm topped with fresh berries and maple syrup.
Notes
I choose to recreate the waffles by following the original recipe from the website 'Tastes lovely' by Natalie. I omitted the almond milk and used water instead. Beating the egg whites, separately is the secret to perfect waffles.
Did You Make This Recipe?