Ripe plantain, also known as matoke in Kenya and Uganda, is a favourite of mine. Whether baked, fried or in a stew, I love the versatility of this starchy food.
Living abroad comes with the challenge of finding food that connects us to our home country; in this case, one has to either adapt to local cuisine or reinvent. Fortunately, I have been so lucky to find nearly every ingredient that I need to recreate Kenyan food here in Denmark.
Indeed, Aarhus, my current hometown, has a plethora of Danish, Arab and Indian shops stocking ingredients needed to make Kenyan and African foods. From Ugandan plantains, Kenyan avocados, West African Palm oil, you need it, you will find it at some nondescript shop.
Being able to cook Kenyan food is a big deal for me. The comfort of homemade Kenyan food keeps me connected to my Kenyan roots. Food is my antidote to homesickness.
Today I woke up craving plantain, yet I didn't have the energy to stand and fry them, as would do if I am in Kenya.
The winter here in Aarhus is becoming long and insufferable. I am not getting any sunshine, and this is taking a toll on my body; fatigue upon fatigue. I want to escape to Kenya for some R&R. If I could rob a bank or win the lottery, the only escape I can do for now is through food. Besides, what better way than a starchy baked ripe plantain for instant energy?
I recommend using overripe plantains.  The blacker the banana, the tastier it is. Ripe plantains are also easier and less messy to peel.  You can enjoy plantains as a snack or a side dish to meat, beans or lentils. I like mine as a snack!
I have baked these plantains to crispy perfection. 
Without much ado about nothing, here is a foolproof recipe to baked ripe plantain. 
Karibu Sana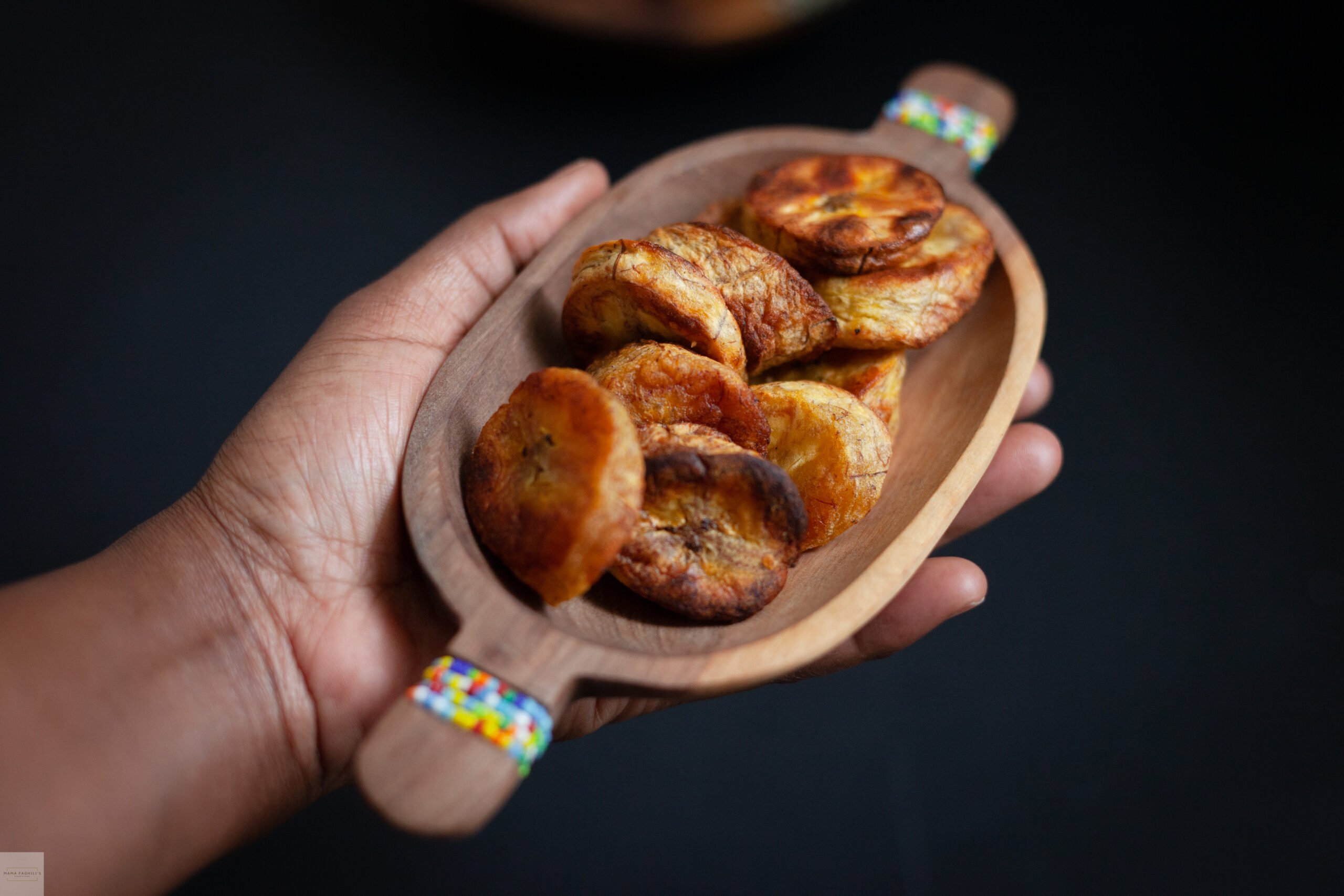 Ingredients
3 overripe plantains (preferably black on the skin)
3 tablespoons canola or vegetable oil
1tsp paprika (optional)
1/4 tsp Black pepper (optional)
1 tsp sea salt
Instructions
Preheat oven to 220 degrees C. Line a baking pan with parchment paper.
Peel the bananas and slice them into horizontal shapes, no thicker or longer than half a thumb size.
Wash bananas in salty water, pat dry with a kitchen towel or serviette.
In a large bowl, combine the oil with salt, paprika and pepper, toss the bananas and coat with the oil mixture.
Lay the banana slices on the baking pan, in a single layer, avoid overcrowding.
Bake plantains on each side for 10 minutes sprinkle more a little oil if they begin to dry up fast.
Turn and make sure the other side gets about 10 minutes too, or until both sides are brown and crispy.
Serve warm with a chilli dip or ketchup.
Notes
Notes:
Want to deep fry? Heat about 1/4 cup of oil in a saucepan and deep fry the slices until they are brown.
-If you have a sweet tooth, you can sprinkle cinnamon sugar on the banana slices while they are still warm.
-Use overripe plantains, the blacker the banana, the tastier it is.
-Avoid using too much oil, as this will result in soggy plantains.
Did You Make This Recipe?
Want to know the difference between banana and plantain? Click here.
Looking for a banana bread recipe? Look no more. Try this one.