Githeri is a plant-based meal of corn and beans (often kidney beans) boiled together. A staple food in Kenya, this meal has fed millions of Kenyans through the decades, since the 1920s.
You would think that having eaten githeri so much in high school would have traumatised me into hating it forever, as anyone who's been to a Kenyan high school will tell you of the nightmares of githeri.
Back in high school, githeri was served 6 days a week – without pomp or flavour. The maize, jaw-breaking hard, and the beans, dotted with weevils. It was a meal of survival, comfort you could find at your mother's house when schools closed
Some people now in their adulthood are still traumatised by githeri. The sight of this meal sends their stomach rumbling with fright.
Maybe it is living abroad, but I find comfort in this meal.
I like to enjoy a meal of githeri, but the maize must be soft and it shouldn't invoke memories of high school. That means it has to be a pimped up version. Anything that reminds me of high school githeri issa no! That means no cabbage, potatoes, and lest so, no weevils!
There are many ways of cooking or eating this meal- some people prefer to cook it with potatoes and cabbages – but I like mine with simple ingredients and flavour.
Cooking githeri doesn't have to be complicated. I believe the best flavour comes from using fresh coriander, tomatoes,  ginger, garlic. For spices, I use turmeric, cumin, chilli and garam masala.
However,  today, I am taking you on a culinary adventure by adding peanut butter to githeri.
The nutty flavour of peanut butter takes a favourite meal to a whole new level of wholesomeness. One serving is not enough.
And guess what, like many curries, this one tastes even better on the second day!
Please see recipe notes below on alternative ways to use corn and beans.
You can watch the how-to cook  video below: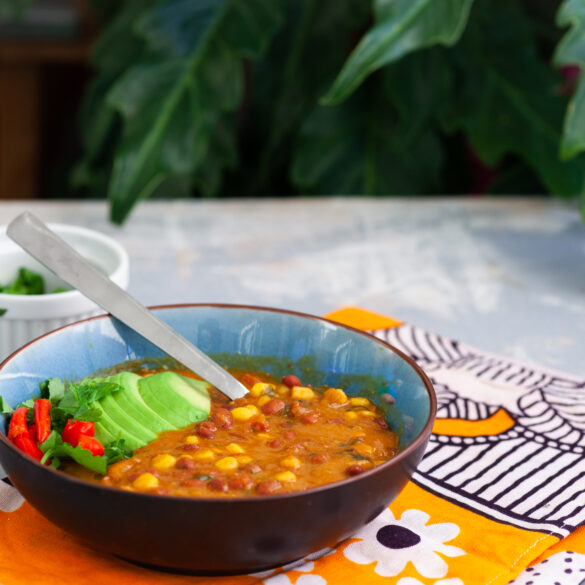 Ingredients
INGREDIENTS
To Pressure Cook or long boiled
2 cups red kidney beans or rosecoco (soaked overnight)
2 cups white corn kernels
1 tsp salt
5 cups of water

Ingredients for Githeri in Peanut Curry

1 tsp cumin seeds
2 tbsp ghee (or vegetable oil)
2 medium red onions (finely chopped)
1 tsp salt (more to taste)
3 tsp ginger and garlic paste (freshly minced)
250 grams pre-boiled beef (optional)
2 tsp coriander stems (save leaves for garnishing)
½ cup roughly chopped or blended tomatoes
1 tsp tomato paste (optional)
1 tsp turmeric powder
½ tsp garam masala
½ tsp red chilli powder (optional)
4 cups pre-boiled githeri
4 tbsps. peanut butter
2 cups (500ml) beef stock (from boiled the meat. See notes below)
1 tbsp. corn starch (optional) diluted in 1/4 cups water
Juice of half a lemon (optional)
Ripe avocado for serving
Coriander leaves, for garnishing
Instructions
1. Wash and rinse the beans (kidney or rosecoco) in a large bowl. Soak in 4 cups of water overnight, add a whole carrot to the mix; it will soak up the extra gas – bye flatulence.
2. Drain the beans from the water. Transfer them to a pressure cooker or heavy base pot with 1 teaspoon salt. Add 5 cups of water and pressure cook on medium heat for 12 minutes. If using soft corn kernels, add them to the beans halfway through cooking.
3. If using a normal pot, cook the beans and corn mix for 30 minutes, or until they are soft enough that you can eat the mix at this point.
4. Boiled the beef with 3 cups of water, in a separate pot until the meat is tender. Reserve the water/stock for later.
5. To make githeri peanut curry, in a large pot, heat 2 tablespoons ghee/vegetable cooking oil/or olive oil.
6. Once the oil is hot, add the cumin seeds and let them fry for a minute. Add the finely chopped onions and cook for 7 minutes, until they turn golden brown.
7. Add the fresh ginger and garlic paste, cook for 2 minutes until there is no garlic smell left.
8. Add in the preboiled beef chunks, and fry until golden brown, for about 5 minutes. Also, add the coriander stems and fry until they release an aromatic smell.
9. Add the tomato puree and tomato paste and mix. Cook for 3 minutes.
10. Add garam masala, turmeric powder and red chilli powder.
11. To the meat and tomato mix, add in the boiled githeri. Mix thoroughly to combine.
12. Add 1.5 cups of beef stock (or enough to just cover the githeri mix). Also, add the diluted corn starch if you want a thicker sauce.
13. Let it simmer for 15 minutes while stirring continuously.
14. Add 4 tablespoons of peanut butter. Mix well.
15. Simmer for 00 minutes on low heat after adding the peanut butter, giving an occasional stir so that the curry doesn't burn or stick to the bottom of the pot.
16. Taste and adjust for salt or chilli. Add a half a juice of a lemon for a tangy flavour.
17. Garnish with coriander leaves and serve with thin slices of avocado. Enjoy!
Notes
RECIPE NOTES
1. You can use canned beans and yellow corn, which you don't need to boil beforehand.
2. Simmering the githeri peanut curry on low heat is essential for rich flavours, so do so for an hour or 30 minutes at least.
3. If you don't have beef stock left from boiling the meat, you can use one bouillon cube, dissolve in 2 cups of water, approx., 500ml.
4. Let me know if you'd like a video on how to boil githeri.
5. For best results, use white corn (soft or dried).

Did You Make This Recipe?